Starting a Career With No Experience
Just about everyone dreams of working in an incredibly successful job that they love, which also provides them with enough money to cover the lifestyle they want. But far too many people end up compromising, working jobs they don't particularly enjoy, for less money than they'd like. So when it comes to starting a career, it's important to carefully consider your options before you jump straight in! 
It's often beneficial to speak with a recruitment specialist, like Pineapple Recruitment, to explore what sort of jobs you'd be best suited for, and will lead you on a career path that will make you happy. It's also important to remember that finding the right job can take time, especially if you're starting a career without previous experience.
So how can you find the perfect career, with little or no experience to put on your CV? We've listed a few tips below, to help you get started!
Knowledge is Power
While getting a degree or other further education qualifications can be beneficial for your career, it's not essential. But showing your commitment to pursuing a career path is definitely important, and this can most easily be achieved by getting qualifications in the relevant fields. So take a few classes, attend any workshops or courses available, and start getting certificates and diplomas in the area you're passionate about. 
Furthering your education can not only help you stand out from other candidates, it can also help you start building networks. Lecturers, teachers, and even fellow students may have great contacts within your chosen field, which you can use to progress your career.
When it comes to knowledge, broad research is essential. Start reading blogs, interact in forums, join groups, listen to podcasts and watch tutorials. And try not to just learn about your chosen topic - when it comes to interviewing for jobs and networking, it's also important to know a few key names in the industry, both in terms of companies and individuals. 
Show Your Dedication
As mentioned, getting qualifications in your chosen industry will show your dedication, but so can getting actual experience. This may sound impossible - you'll be faced with the usual Catch-22 of not having enough experience to get work, but can't get experience without previous work - however there are options available.
It may not sound like a thrilling prospect, but you may need to start off working for little or no money, in order to get the experience you need. This can really help you fill up your CV with relevant roles, and show your passion for the career path you've chosen. So start interning, volunteering, and getting freelance jobs to get practical training for future roles. 
Volunteering can also be a good way to get your foot in the door in a particular business. If a company you're particularly passionate about is not currently hiring, but are willing to take you on as a volunteer, by showing your hard work and dedication in the role, they may reconsider hiring you.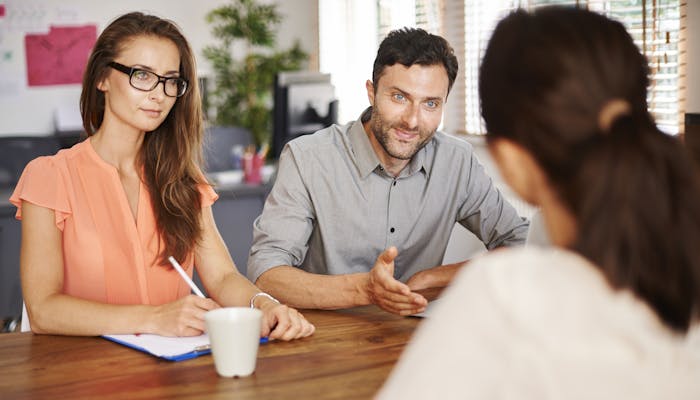 Speak to Others
One of the best ways to find a job is to be recommended by a friend or family member. So speak to the people you know, to find out if there are any opportunities within your chosen field. And if nobody you know works in the same industry, find a recruitment agency who can put you in touch with a company looking for someone of your skillset. 
You can also try to establish connections with other people in your industry by contacting them directly, or reaching out through LinkedIn. Just make sure you don't start asking for favours straight away - create a good rapport first! 
Social media sites like LinkedIn in general can be very helpful when searching for a job. You may not realise just how big your network is, but if you let others know about the industry you're trying to get into, the results could surprise you. Perhaps one of your friends has another friend that can recommend a job, or put in a good word for you!
Make Your CV Stand Out
Obviously having relevant education and experience on your CV is a must, but there are a lot of other things to consider when crafting the perfect CV. Make sure that it looks the part, and flows well. Try to focus on the key parts of your experience too, not just the job titles - list the skills and talents you've needed to perform the job well, and demonstrate how your skills have developed over time. 
It can also be good to include a surprising piece of information on your CV, such as a slightly unusual hobby or interest, like quilt making or fencing. This can be a great talking point during your interview. And when it comes to the interview, make sure you also have a great narrative to tell about why you chose that industry, showing your passion and interest.  
Your CV will additionally need to have lots of transferable skills listed. These are often referred to as soft skills, and include things like communication, interpersonal, leadership and organisational skills. You can talk about your ability to manage your time well, motivate people, and speak in public. 
For a comprehensive guide on how to create a CV when you don't have much experience, you can check out our article here. And just remember, everyone has been in the same position you have, starting from nothing. So don't panic, and focus on the positives - passion and enthusiasm can be just as important as experience!
NEED SOME HELP WITH YOUR CV?
Perfecting your CV can be challenging. There's a lot to think about, from the layout and design to the written content. But there are a few simple ways to ensure you get these things right, such as using a CV checker. Simply click the button below to get a free check on your CV - you'll receive bespoke recommendations to improve your CV and your chances of landing a new job!
FREE CV CHECK