The Signs That An Interview Went Well
It can be difficult to know how well you performed in an interview, especially if you were focussing so hard on getting your answers right that you weren't concentrating on the reactions of the interviewer.
Don't let anxiety eat away at you if you haven't heard back straight away - you can find out if the interview went well by checking these signs!
THE INTERVIEW ISN'T TOO SHORT
Realistically, the person interviewing you won't have a lot of free time - they're bound to have lots of other interviews and appointments scheduled, not to mention their overarching responsibilities. So if they aren't sticking to their schedule, and the interview runs over, it means they think it's worth it.
Sometimes a remote interview can be shorter, but typically you'd expect the interview to last around twenty minutes. If yours lasted longer than half an hour, and you spent a lot of time being asked interesting questions, it's probably a positive sign.
The timeframes might vary slightly if you have more than one interviewer though. Sometimes each one feels the need to ask questions, so that they feel they've contributed to the meeting, and this can make the interview last much longer. It's important not to assume either way - there's a good chance that every interviewer wants to discuss the details of the position with you, and are interested in what you have to say.
YOUR INTERVIEWER SEEMED ENGAGED
This can be difficult to determine conclusively. But you can often tell a lot about someone's engagement through their responses and body language. If you noticed your interviewer leaning in, nodding, smiling, and generally agreeing with what you're saying, the chances are they were interested in hiring you.
As obvious as it may seem, positive affirmation is another key indicator that the interview is going well. Phrases such as "that's exactly how I'd put it" or "great answer" show that the interviewer likes what they're hearing, and feel you'd be a good fit for the role.
The opposite is not always true though - if your interviewer disagreed with you a lot, this won't necessarily be a bad sign. Debate can help businesses be more innovative, as you'd be bringing a fresh new perspective into the organisation. Disagreeing with the interviewer also shows that you're willing to stand up for yourself and your opinions - as long as you're not too strident about it!
THE INTERVIEW WASN'T OVERLY FORMAL
Did the interview feel conversational? If it seemed easy to talk to your interviewer, and you didn't feel like you were being asked cursory questions, you probably built up a good rapport with them, which bodes well for your chances of getting the job. Not to mention the fact that you would have demonstrated strong interpersonal skills.
Getting along with the interviewer should mean that they'll consider you a good fit within the team as a whole, and would easily conform to company culture. So if you start to stray from the formalities, and maybe even share a few laughs, you're demonstrating that you'd have a good working dynamic in the business, and the interview is almost certainly going swimmingly.
Don't underestimate the importance of fitting in with the company culture. Increasingly more companies are just as concerned about the work environment as they are about candidate qualifications. If you're likely to fit in well with the rest of the team, it probably means you share a lot of the same values, which will often be a good indicator of longevity within the business. 
YOU MET THE TEAM
As with the point above, you need to show that you'd get on successfully with your colleagues. So if you're invited to meet the team you'd be working with, it's essentially a trial run for when you start working there. You've impressed the interviewer by this point, and they want to check if you'd interact well with your future colleagues before making a final decision.
If you feel that you got on with the team, that will also be an encouraging sign, as their opinion may contribute to the hiring decision. So as long as you were polite and friendly with each staff member you spoke to, your interview probably went very well.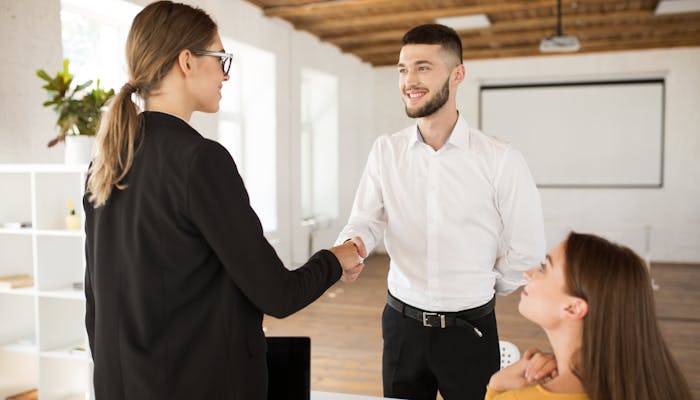 YOU WEREN'T ASKED TO REPEAT YOURSELF
It can be a bad sign when you're asked to go over the same point a few times. It implies that the interviewer has specific concerns about something, and you weren't able to put their mind at ease on the first try. You may be questioned more than once about gaps in your work history, for instance, or the reason you left your last job.
The same issue also applies if the interviewer keeps looking at your C.V. and referring to one or two points multiple times. They may be worried about a previous job, such as why you didn't remain in the role for long. Try not to be too concerned about focusing a lot on your C.V. though - this could simply be due to the interviewer's lack of experience. If they're new to the job, they may feel more comfortable having something tangible to refer to.
Of course, when it comes to repeating yourself, you might be asked to expand on more positive things. This could be something like how you showed initiative when faced with a particular task. The interviewer could circle back to this, and ask about it a couple of times. If you're asked to expand on things you've done well, that can only be a good thing.
YOU'RE INCLUDED IN JOB RESPONSIBILITIES
Did the interviewer talk about how you'd be using your talents in future projects? Or perhaps they mentioned what you'd be doing and who you'd be reporting to on your first day. These are signs that the interviewer can picture you in the role, and the interview is going well.
Any specifics of the job role you're told about are a good sign. If the interviewer is happy to take the time to explain the position in detail, they must feel pretty confident about your capabilities, and aren't just counting down the minutes until they can usher you out the door.
YOU DISCUSS A START DATE
It can be a good sign if your interviewer asks about when you can start, especially if they don't just mention it in passing. If they seem particularly interested in your availability, it could imply that they want to employ you soon, and may be willing to work around your schedule if needed.
If your interviewer brings up how much you'd be getting paid, that's also a good sign. It can be awkward to bring up the topic of wages, so if you're asked about your current or past salary, or what you're expecting to receive in this role in terms of pay, it suggests that the interviewer is serious about hiring you.
You might also discuss whether you have any other interviews coming up. This is generally a good sign, as it suggests that the interviewer wants to know if you're interested in other roles. If they weren't considering hiring you, your interest in other companies wouldn't matter to them much. So they're probably trying to determine if you'd accept a job offer with them or another business.
YOU'RE OFFERED A SECOND INTERVIEW
If you're asked back, you can be certain that you've performed well in your interview. It's important to remember though, that other candidates may have been asked to come in for a second time too, so don't get overconfident! And even if you're not given another interview, if the interviewer clearly states what the next steps are, and when you'll hear back from them, it does imply that you have a chance of reaching the next stage of the hiring process.
It's essential that you prepare for a second interview just as much as the first one. Although you know the business must be interested in hiring you if they've asked you back, especially if they've given positive feedback to you through your recruitment agency if you have one, whittling down the final few candidates can be challenging, so you'll want to stand out.
You should also keep in mind that even if you don't pick up on a lot of these signals, it doesn't mean that you won't be hired - some interviewers are very good at keeping things close to the chest. And if you're not offered the job, it could be down to any number of factors, many of which are out of your control.
Don't focus on the negatives, and try to improve your interview technique before the next interview! This job clearly wasn't the role for you, and a better opportunity could be right around the corner.
NEED SOME HELP WITH YOUR CV?
Perfecting your CV can be challenging. There's a lot to think about, from the layout and design to the written content. But there are a few simple ways to ensure you get these things right, such as using a CV checker. Simply click the button below to get a free check on your CV - you'll receive bespoke recommendations to improve your CV and your chances of landing a new job!
FREE CV CHECK