How To Prepare For An Online Interview
A lot of interviews are now conducted online, as this allows non-local candidates to easily apply for positions, not to mention save them money in terms of transportation costs. Virtual interviews can also speed up the interview process, which is especially useful for businesses looking to hire someone to start immediately.
The most common type of online interview is a video call, using a medium such as Zoom, Skye or Google Hangouts, but some companies may instead ask you to record yourself answering specific interview questions. It's therefore important that you find out what sort of interview to expect - it may only be audio, or include video too, and time zones could be a factor to take into account.
Online interviews can feel awkward if you're not used to them, so we've created a list of things to consider and practice before your interview, to help you feel more at ease.
GET TO GRIPS WITH THE TECHNOLOGY
Since the outbreak of COVID-19, most of us have gotten used to using various platforms that allow us to speak with our friends and family remotely. But you may not have used the program your interviewer chooses before, like HireVue or GoToMeeting, as they have been specifically created for job interviews. Or perhaps you haven't taken into account your screen name - are you using a professional sounding name, and will the interviewer be able to recognise that it's you before the call starts?
It's also a good idea to schedule a test call with someone before the interview, to make sure that there are no issues with your connectivity or sound system. If your signal is poor in certain areas, try out different rooms of your house, to see if you can improve it.
It can additionally show initiative to contact your interviewer beforehand, and agree on a backup plan, should any technical difficulties arise. This could be as simple as rearranging the interview for a later time, or conducting the interview via phone rather than video.
KEEP PRACTICING
As with all interviews, you'll need to research the company, what products or services they offer, and the industry they're working in. If you know the name of your interviewer, you may also be able to find out a bit more about them via LinkedIn, so you can get a feel for the style of interview you'll be facing. Once you've done your research, you then need to practice your interview technique.
Ask a friend to come up with a list of common interview questions, and go through them on a video call. Listen carefully to what they're saying, and make sure you don't talk over them. Practicing the interview will not only ensure you appear prepared, it will also help you to feel more confident.
DRESS PROFESSIONALLY
As you'll be sitting down, it can be tempting to just wear a smart shirt for a virtual interview. But should you need to stand up at all, you wouldn't look too professional if the interviewer saw that you were wearing pyjama bottoms along with your shirt. To put yourself in the right frame of mind, make sure you dress in smart, conservative attire from head to toe.
You might want to consider looking up the company's dress code before the interview too, to get a better understanding of how you'd be expected to dress in your day to day role.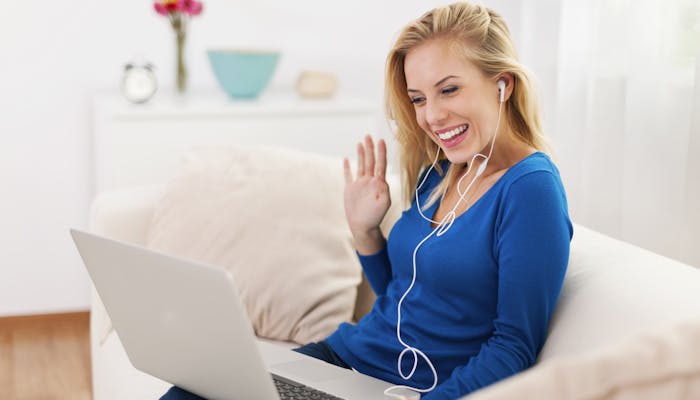 CONSIDER YOUR ENVIRONMENT
You don't want a lot of background noise, so attending an interview in a coffee shop probably isn't a good idea. Ideally, you'll want a quiet room with no distractions. You should also think about the wall behind you - while there's a chance a Star Wars poster will be a good talking point, the odds are that it won't look very professional. Try to choose a plain wall to use as your backdrop, and ensure that the lighting isn't overly bright or dim.
As ridiculous as it may sound, you might want to consider closing your windows too. If you live on a busy street, the noises of traffic or pedestrians could filter through, and drown out your voice when you're trying to respond to questions. Make sure that your children and pets aren't close by either, making a lot of noise - you might need to ask a friend to take them out of the house entirely.
HAVE YOUR TOOLS AT THE READY
It never looks great if you have to scramble around for a pen and paper should you need to make note of something. Ensure that you have both of these things close to hand, along with any other tools that could be useful. Just don't clutter the space in view of the camera.
It never hurts to print out a copy of your CV either, which you can consult during the interview, especially if you have trouble remembering the dates and specifics of previous jobs. Familiarise yourself with any other additional information you included too, such as your hobbies and interests - you might be asked to speak about these, so could consider a few anecdotes and ways to link your interests to wider skill sets.
WHAT YOU'RE SAYING
Make sure that you speak clearly, and enunciate. Your microphone may not be of the highest quality, and could have difficulty picking up your voice if you speak softly, so try to project your voice and take your time when speaking.
You also need to be conscious of what you're saying with your body language. Sitting up straight, demonstrating good posture, will show that you're listening attentively to the interviewer. Perhaps try to keep your hands in your lap where possible too, to avoid big distracting gestures or fiddling with things on your desk. Think about where you're looking as well - try to look into the camera rather than at your screen, so that you're making more direct eye contact.
PREPARE QUESTIONS
At the end of almost all interviews, you'll be asked if you have any questions for the interviewer. Although most things should be covered in the interview itself, make sure you have a few questions prepared, even if they're fairly basic. For instance, you might ask about a typical day in the position you've applied for, and the biggest challenges of the role.
If you're signed up with a local recruitment agency, they can offer you great example interview questions to pose to the interviewer too. As interviews are the bread and butter of such agencies, they'll have the best idea of what a business wants to hear from you, in terms of answers as well as closing questions.
NEED SOME HELP WITH YOUR CV?
Perfecting your CV can be challenging. There's a lot to think about, from the layout and design to the written content. But there are a few simple ways to ensure you get these things right, such as using a CV checker. Simply click the button below to get a free check on your CV - you'll receive bespoke recommendations to improve your CV and your chances of landing a new job!
FREE CV CHECK