5 Steps to Move Forward With Your Career
A lot of us feel like we're stuck in a rut when it comes to our career. Progression isn't always linear, and it often feels like we're not moving forward at all. In many cases, you can't even focus on your development or career progression because you're so focused on your day to day responsibilities. 
You may alternatively feel like there's nowhere to go in your current role. Perhaps you've reached the top already, or there are no managerial spaces that need to be filled. But applying for a new job comes with a level of risk - what if you don't enjoy it as much, or find the opportunities for progression are even fewer than in the company you left?
If you're looking to move forward with your career, but don't know where to start, we've outlined five steps below to help you kickstart your progression!
1. Reflect on Your Career Path So Far
One of the challenges many people face in terms of progression is self confidence. If you haven't been promoted or awarded a pay rise in a long time, you may start to believe that you're not ready to progress in your career. 
That's why it's important to think about the achievements you've had in the past, and what skills you currently possess. You may even want to write these things down, and include the bigger accomplishments on your CV! Referring back to this list can then help remind you how much your skills have developed, and what you have to offer to an employer.  
2. Draft Up a Career Plan
Some people have a career plan in their mind (or perhaps in beautiful calligraphy, framed on their living room wall…) but many others haven't really thought about the direction they want their career to take in the short and long term. Consider precisely what you're hoping to learn and achieve over different time periods, as an individual rather than the overall goals of your business. 
You should also think about what you love about your current role, and why you applied for the job in the first place. Are you still passionate about your profession, or is the best thing about your job your colleagues? Make a list of all the things you're looking for in a job, and try and prioritise them. You're unlikely to find a role that includes everything on your list, but if the role meets your top requirements, you're clearly in a great position!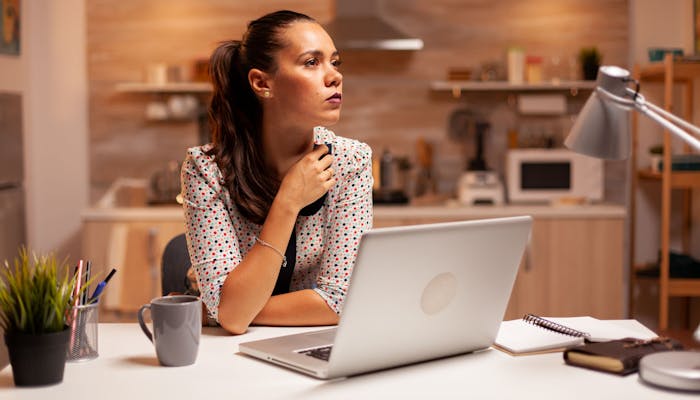 3. Learn New Skills
If you're looking to progress your career, it's important that you're continually learning and developing. This doesn't necessarily mean you need to receive any formal qualifications, but if you're hoping to move into a specific role that requires a degree in engineering, for instance, it is something to consider! Few employers will consider your job application if you don't have the qualifications they're looking for, unless you plan to train on the job. 
There are several skills you develop which are universally useful in terms of career advancement.  Things like improving your Excel skills, as almost every office uses this, or working on your soft skills, can be helpful. Knowledge of your industry is also a great thing to have - perhaps read a few recent publications on the topic, or listen to relevant podcasts. The Open University additionally has a number of free courses available online. 
4. Speak to Others About Your Progression
Don't keep your feelings of dissatisfaction to yourself, if you're worried about your career progression. You don't need to have a formal conversation with your boss if you don't want to, but it can be helpful to get a general idea of what steps you need to take, in order to move forward within your company. There's a chance that just bringing up the topic will be enough to net you an overdue pay rise! 
It can also be helpful to look at other people, whether they're people working within your organisation or role models in your industry, and find out how they got where they are. You may be able to emulate some of their techniques for your own career advancement. LinkedIn can be a great tool for this - lots of people who have worked their way up offer advice for others looking to do the same. 
5. Make a Change
If you really don't think that there are any progression opportunities within your business, even if you were to move departments or roles, it could be time for a change. Depending on how much change you're looking for, this could be a shift in industry, or simply finding a similar job elsewhere.
Looking for a new job can be a daunting prospect, especially if you have been working for the same employer for many years. But it could be the perfect opportunity to not just progress in your career, but also gain other perks. From an improved work-life balance to a higher salary, a new role can be incredibly rewarding.
If you'd like to discuss making a change in your career, Pineapple Recruitment would love to hear from you! We're here to help candidates find exciting new job opportunities, which offer numerous perks and benefits.
NEED SOME HELP WITH YOUR CV?
Perfecting your CV can be challenging. There's a lot to think about, from the layout and design to the written content. But there are a few simple ways to ensure you get these things right, such as using a CV checker. Simply click the button below to get a free check on your CV - you'll receive bespoke recommendations to improve your CV and your chances of landing a new job!
FREE CV CHECK