How to Hold Digital Interviews
Social distancing has made holding interviews more tricky. A lot of companies had to get a little more creative in regards to recruitment, and held video or phone based interviews. They had to find a delicate balance between keeping everyone safe and really getting to know the candidates. 
As a potential employee, it's important to prepare for a digital interview, but it's equally as important for employers to consider what an online interview entails. While a lot of the considerations will be the same as in-person interviews, there are a few additional things to think about.
Check the Equipment
You don't just need a good internet connection to host an online interview (though that's also essential). You'll additionally need the appropriate software, whether it's Zoom, Google Meet, Skype for Business, or any number of options available on the market. It's a good idea to test a few out beforehand, to find the best fit, and ensure that you're well practiced in using the technology. If you need to share your screen, for instance, make sure you're confident about how to do it.
As well as the video software, it's also important to test your other conferencing equipment, such as your camera, microphone and speakers. In between each call, just make sure these things are performing optimally, and have back-up options just in case anything goes wrong.
Confirm All the Details
Usually, an interview confirmation email or call would include instructions on how to reach the company's offices. With a video interview, it can be helpful to prepare the candidate ahead of time as to what the interview will entail.
Let the candidate know which software you'll be using, and confirm the time of the interview, as well as a timeline of the meeting should it be a more complex interview.  Conference calls will often mean you'll need to let the candidate know the names and positions of the other people in the call. And if it's a phone interview, it's not a bad idea to clarify who will be calling who.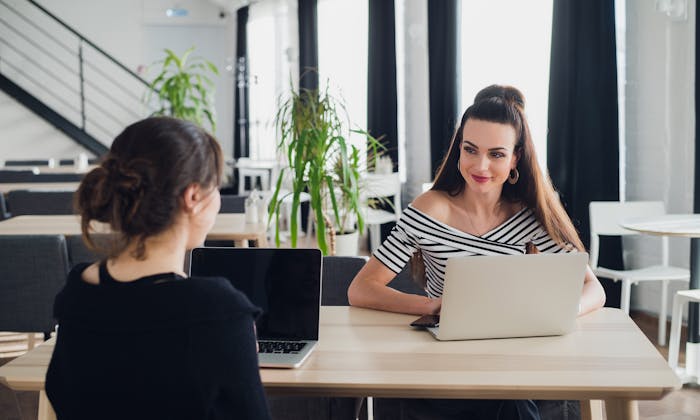 Consider Your Environment
It's not just the candidate who needs to sit in a room free of distractions. A busy background can be off putting, which wouldn't be fair to the person you're interviewing. Make sure that there isn't anything inappropriate or distracting behind you - try to sit in front of a plain coloured wall if possible. 
You'll also need to be somewhere relatively quiet. The sound quality of any digital call will never be quite the same as chatting with someone in person, so aim for a room with little background noise, and where you won't be interrupted.
General Tips
As mentioned above, there are a lot of things that won't change, whether you're interviewing someone remotely or in the same room. For example it's always important to be professional - maintain eye contact and show each candidate that they have your full attention. A lot of people are more nervous when they're essentially talking to a screen, so do your best to put them at ease. 
Your dress code, tone, and body language should also be considered with a digital interview - don't relax just because you're not meeting someone in person. Try to conduct online interviews the same way you would a face-to-face interview.
Benefits of Digital Interviews
There are a huge number of benefits to online interviews. Not only do they allow more flexibility (the candidate doesn't even have to be in the same country, let alone the same room), digital interviews can also reduce the time it takes to hire the successful candidate. You can eliminate scheduling difficulties, and only invest time in the best candidates. It's also less awkward to bring a bad interview to a close early when video conferencing.
We're not advocating for everyone to move to digital interviewing permanently, but it's a great option. And perhaps moving forward, more companies will consider a mixture of online and face-to-face interviews, depending on the needs of the candidate and the business. 
NEED SOME HELP WITH YOUR CV?
Perfecting your CV can be challenging. There's a lot to think about, from the layout and design to the written content. But there are a few simple ways to ensure you get these things right, such as using a CV checker. Simply click the button below to get a free check on your CV - you'll receive bespoke recommendations to improve your CV and your chances of landing a new job!
FREE CV CHECK