If you're trying to find a job, the traditional thing to do would be to find a local job centre. The older generations often still use job centres as their first point of call when seeking work. But while job centres may still be able to help you find a job, these days, they are more associated with signing on to benefits. 
So what is the main purpose of a job centre? Can your local jobcentre help you find a new job, or is their main function assisting you with benefit claims? We've explored a little bit more about job centres below, to give you a better understanding of how they work.
What is a Job Centre?
When people talk about the job centre, they tend to be referring to Jobcentre Plus, which is a government funded organisation that helps those of a working age find employment across the UK. The service is a part of the Department for Work and Pensions (DWP). There are local offices in most major cities across the country.
It's good to note that you rarely need to visit a job centre in person. If you're looking to apply for benefits, you can do so online, with no need to book an appointment. The DWP will then contact you if they need to discuss your claim, or need further information. This will generally include a phone interview. When it comes to applying for jobs, this process can also be done online rather than at your local jobcentre.
What Does a JobCentre Do?
The main purpose of a job centre is to help people return to work or start their career. You should be assigned a Work Coach, who will discuss with you the types of jobs you're looking for, along with your qualifications. They'll take into account things like how many hours you're able to work, the location of the role, and where your skill set lies. 
Your Work Coach can furthermore set up work experience opportunities or voluntary placements for you, and will encourage you to apply for temporary work as well as full time positions. The role of Jobcentre Plus is to provide assistance to anyone who is unemployed and claiming benefits, no matter their personal circumstances. 
Local Job Centres
If you're looking for a local Jobcentre Plus, the best thing to do is search online for 'job centres near me'. There are hundreds of centres across the UK, mostly in larger towns and cities. As we can't list them all, we've included a few job centres close to our head office below, just to give you an idea of what local job centres are like. 
Job Centre Bournemouth
Located in central Bournemouth, Bournemouth Jobcentre Plus can help people consider their career options, find local jobs, and assist with benefit claims. It's located about a mile away from The Square in the heart of Bournemouth's shopping district, and is easily accessible by public transport, including buses and trains.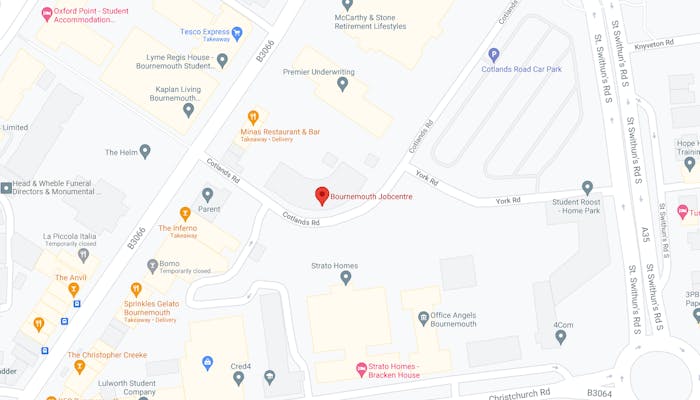 Bournemouth Jobcentre Plus
Tamarisk House
1 Cotlands Road
Bournemouth
Dorset
BH1 3BG
Job Centre Poole
Located just off Poole's main high street, Poole Jobcentre Plus can assist local unemployed residents find new jobs and help them with benefit applications. If you are asked to visit the job centre in Poole, the building is easy to access and locate, just next to the high street car park.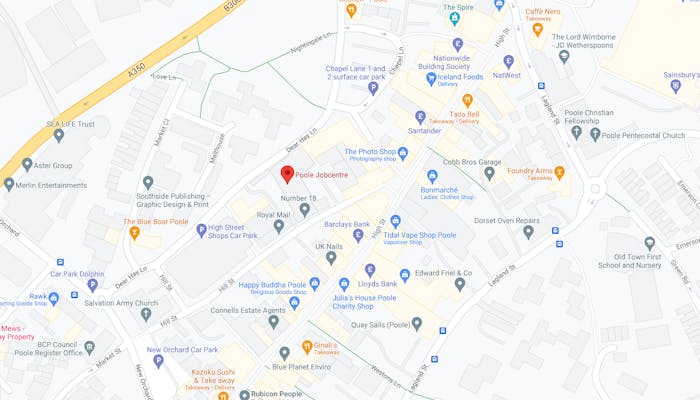 Poole Jobcentre Plus
Old Town Market
Dear Hay Lane
Poole
Dorset
BH15 1NZ
JobCentre Benefits Calculator
There are a few benefits calculators you can use to find out what you may be entitled to in terms of benefits. A few examples include:
The above examples are all free to use, and completely anonymous. When you use a benefits calculator, it's a good idea to have a few details to hand, to ensure you're inputting accurate information into the calculator. This will include information about:
Your income, as well as your partner's income. This can be found on payslips, or your online bank statement
Any existing benefits and pensions you or anyone in your household are in receipt of
Your monthly outgoing expenses - if you have a budget, this will come in useful, otherwise you can check your recent expenditure on your bank statement. You'll also need a recent council tax bill, to confirm how much you're paying towards this
Any savings you have
If you have any questions about applying for benefits, your local job centre should be able to help. You can also find a lot of information on the government website. This includes details on who is not eligible to apply for benefits, such as full time students, someone living outside the UK, or people who are not British or Irish citizens.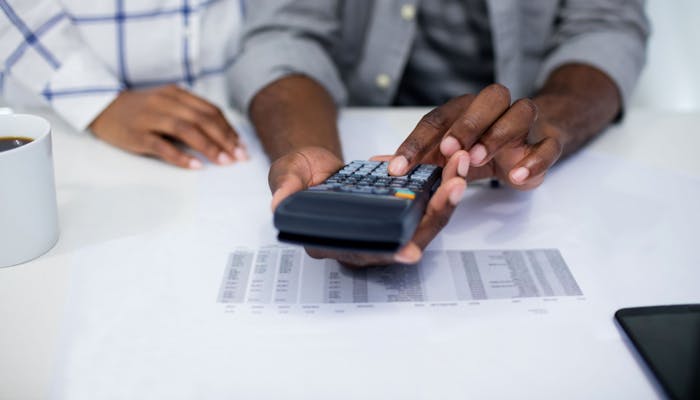 Job Centres vs Recruitment Agencies
In a lot of ways, Jobcentre Plus is similar to a recruitment agency. They'll go through your previous employment experience, discussing your qualifications and skills, just like a recruitment agency. The job centre will also help you find local job roles that they feel will best match your skills and experience, also like an agency. 
The main difference between the two is that with a job centre, you need to be unemployed and applying for, or in receipt of, benefits in order to work with them. In the past, your local jobcentre would help both employed and unemployed people looking for work, but have since needed to narrow their focus due to the resources available. A recruitment agency, on the other hand, helps anyone seeking work, whether they are already working or unemployed.
Recruitment agencies like Pineapple Recruitment can offer you advice on applying for jobs, provide interview tips, and guide you through career progression, such as asking for a promotion or pay rise. No matter where you are in your career journey, we can help you take the next step! Simply get in touch with us today, to discuss the services we offer!
NEED SOME HELP WITH YOUR CV?
Perfecting your CV can be challenging. There's a lot to think about, from the layout and design to the written content. But there are a few simple ways to ensure you get these things right, such as using a CV checker. Simply click the button below to get a free check on your CV - you'll receive bespoke recommendations to improve your CV and your chances of landing a new job!
FREE CV CHECK