Farms Across The UK Are Hiring People On Furlough
People looking for work whilst they're on furloughed leave are being invited to pick fruit and vegetables on farms across the UK.
If you didn't already know, if you have been furloughed by your employer, dependant on your contract, you are able to earn additional income by starting a temporary job. As long as you're not making money or providing services for your current employer or a company linked or associated with them, you can get a side gig to supplement your income.
As a result of the pandemic, around 70,000 workers who arrive in the UK from abroad to do seasonal work will not be able to do so this year, meaning the Government has urged furloughed UK residents to start picking farm produce this summer. The Country Land and Business Association has even predicted the shortfall could be up to 80,000 employees.
In fact, the National Farmer's Union (NFU) has estimated that up to 95% of the expected employees who usually pick fruit and vegetables will not be able to do so during the COVID-19 isolation period. Without the usual workforce for harvesting, it is feared that the produce will rot and go to waste.
This is a great opportunity for people on furlough to get outside and enjoy the good weather, do their part towards helping Britain's economy, feed the nation, and also earn more money. So far, around 26,000 people have responded to help the farms.
HOW TO GET A JOB ON A FARM
If you're interested in applying to work on one of the many farms across the UK, industry body, British Summer Fruits, has released a convenient map showing all of the farms that have vacancies available.
To apply, you can simply send your CV directly to the farm using the contact details on the pins on the map.
There are many more farms that are not listed here that need willing UK-based workers, so don't be disheartened if you can't see something near you - there are other ways to apply.
As the British Summer Fruits map does not show all of the opportunities available, you may also want to apply through the HOPs labour solutions 'Feed the Nation' scheme. This scheme is a partnership between recruitment charity Concordia, HOPs and Fruitful, which aims to replace the usual harvesting workforce with furloughed staff within the UK.
You can apply for seasonal work here. All the roles available are for May onwards. On the HOPS website, you'll need to fill in the application form, and then you'll be sent a link to an online video interview platform, which you'll need to complete.
If successful, you'll be matched with a role on a UK farm based on the preferences and skills you stated in your application. You'll then be able to decide whether or not to take the role.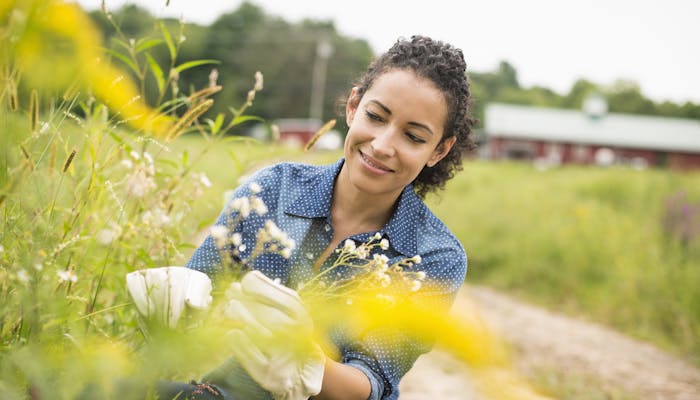 WHAT IS THE WORK ON THE FARMS, WHAT ARE THE HOURS?
Working on farms can be physically challenging: there are long hours and early starts, and sometimes you'll have to work in inclement weather conditions. Ideally, farms are looking for people to temporarily commit to a standard five day working week, in some cases with flexible hours.
All farms pay at least the minimum wage, and many pay the national living wage. You will be paid, at least, the minimum wage and many farms pay National Living Wage or more, depending on how much fruit and/or vegetables you harvest, and the role you do on the farm.
Most of the roles on offer will be harvesting work, but for those skilled with machinery and transport there may also be some other jobs available. All successful applicants with HOPS receive free insurance, and will also go through an excellent training programme, which you will be paid to complete.
The placements available are between 3 weeks and up to 6 months.
So if you're looking to find work across the UK, working on a farm for the summer could a be a great opportunity!
NEED SOME HELP WITH YOUR CV?
Perfecting your CV can be challenging. There's a lot to think about, from the layout and design to the written content. But there are a few simple ways to ensure you get these things right, such as using a CV checker. Simply click the button below to get a free check on your CV - you'll receive bespoke recommendations to improve your CV and your chances of landing a new job!
FREE CV CHECK