As has been widely reported, COVID has decimated business and the economy across the UK across March and April 2020. The Self Isolation policies instructed by the UK Government has meant that many businesses are forced into being temporarily shut or working safely with a minimised number of staff.
Amongst the worst affected sectors from COVID have been the education sector, food services, retail, and hospitality. Many of the workers in these industries have been furloughed, with many currently looking for sources of extra income to make up the salary reduction.
In fact, we are now seeing less jobs posted per week in the UK than in the week of Christmas!
Dorset is no different from the rest of the country, thanks to a report from Meridian Business Support and EMSI, as it sees a fall in unique job postings of 36.6 per cent, which is a reduction of 2,109 jobs.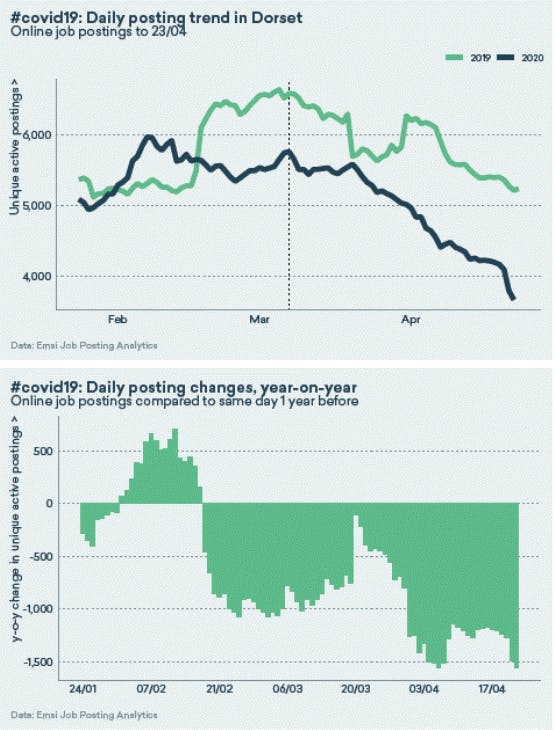 These charts above are mapping the daily job posting activity in the county of Dorset for 90 days, between the 24th of January and the 23rd of April. It compares 2020 and and 2019 over the same period of time.
In that same time period, these are the roles (according to the 9 major occupational groups in the ONS' Standard Occupation Classification) that have had the most significant reduction of job postings in the last few months:
Professional occupations: 452 fewer job posts
Associate professional and technical occupations: 447 fewer job posts
Skilled trades occupations: 340 fewer job posts
Administrative and secretarial occupations: 261 fewer job posts
Managers, directors and senior officials: 181 fewer jobs posts
Elementary occupations: 148 fewer job posts
Sales and customer service occupations: 119 fewer job posts
Process, plant and machine operatives: 95 fewer job posts
Caring, leisure and other service occupations: 66 fewer job posts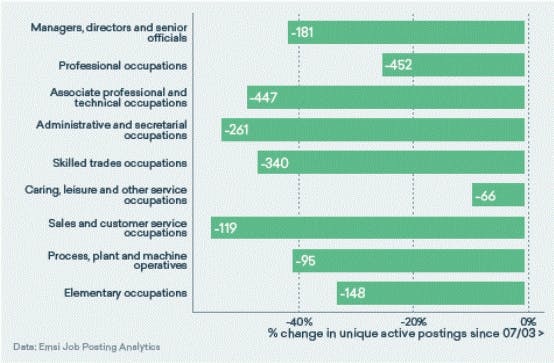 Interestingly, despite the push for more people to step into care and support workers during the challenges of coronavirus, there is still a reduction in job postings in that sector in Dorset.
Recruitment in Bournemouth has unsurprisingly dried up in recent months, and that is reflected here in this data. But that doesn't stop people from finding work, many people have started working as delivery drivers and in supermarkets to tie themselves over in the meantime.
Stats show that stocks in food delivery providers have increased since the pandemic started, as orders through Just Eat, Deliveroo and UberEats have surged.
WE'RE OFFERING FREE PLACEMENTS TO PEOPLE AFFECTED BY COVID
With the uncertainty that the coronavirus has caused, many businesses in Dorset have temporarily minimized or even completely ceased their operations. In response to this, we want to help the local Dorset economy by offering free placements to the people who have been affected by the coronavirus.
Not only will this help businesses make the hires they need without the large agency overhead, but it will also help job hunters find too. So if you're interested in signing up to Pineapple Recruitment, or are a business interested in our COVID free placement scheme, get in touch with us!