Businesses of all sizes, if they hope to expand, will need to consider the cost-per-hire of their employees. In order to calculate where to invest your recruitment budget, it's essential to determine ways you can save money and attract quality candidates, as simply filling a role can cost more than you may think. 
What is Cost-Per-Hire?
Essentially, cost per hire is the total sum involved in recruiting a new employee. On the surface, it's easy to assume that this cost would be low - you simply post the job advert on your website, and wait for the perfect candidate to apply, right?
Unfortunately it's never quite this simple. You need to factor in the time it takes to create the job description, and then post it across various channels to get better coverage. You may also need to pay to advertise on job boards or the local newspaper. 
Once the applications start coming in, the cost-per-hire starts climbing drastically. It can take hours to comb through CVs and covering letters, and then set up interviews with potential candidates. The interviews themselves though, are what cost the most. The interview process on average takes about 27 days in the UK, according to Glassdoor. This consists of countless hours of speaking to people who ultimately won't be offered the job. 
By our calculations, for an internal recruiter on a salary of £35,000 per year, the average total cost-per-hire for recruiting a new member of staff is £2,153. This is how we've calculated the costs over a four week period.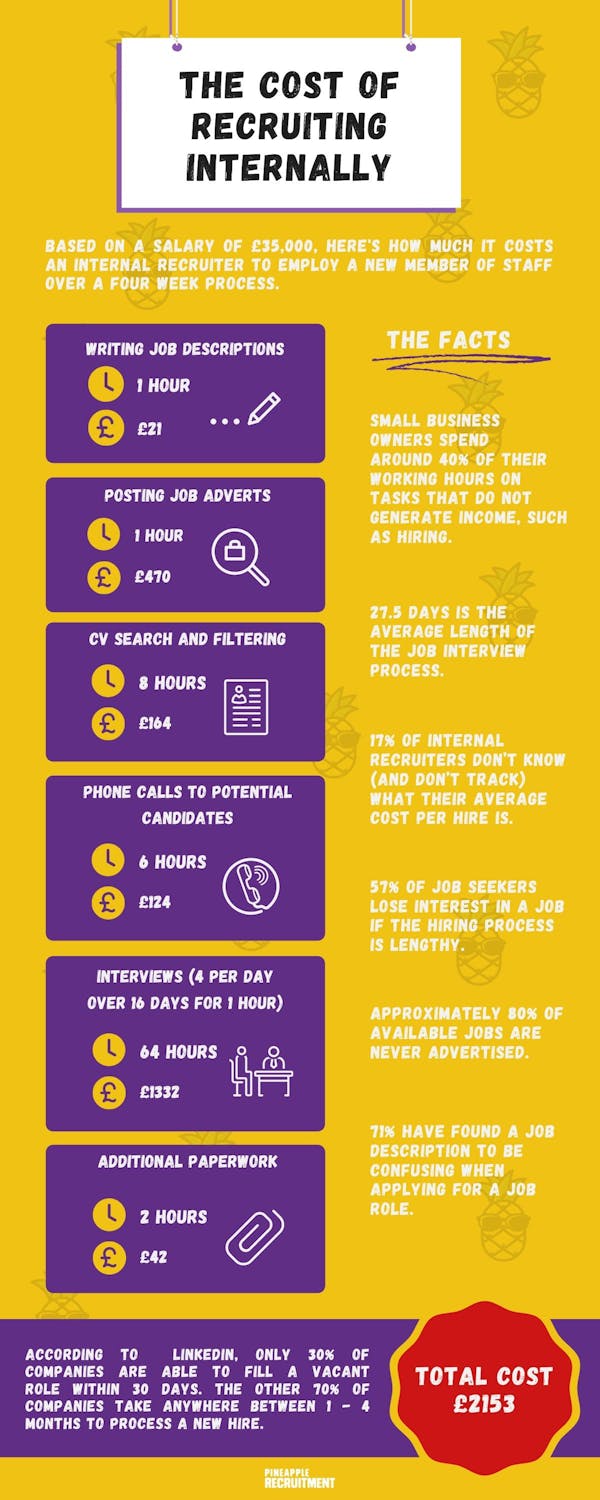 Why Is Calculating Cost-Per-Hire Important?
Almost 20% of recruiters are not aware of how much it costs to hire a new employee. But without this baseline figure, it's impossible to determine how you can make changes to your hiring policies, in order to cut costs. 
Knowing the average cost-per-hire can definitely give you a good place to start though. If you're able to calculate the actual figure within your company, this can give you more accurate figures overall, but either way, you'll be better placed to make smarter hiring decisions, and even optimise existing plans, such as referral bonus incentives.
How Can You Reduce Your Cost-Per-Hire?
Create Great Job Adverts
Keep it simple and short. More than half of job seekers in the UK admit to losing interest in the position should the hiring process take too long. In addition to this, 71% have not been able to fully understand what the job entails when reading the job description. 
So one of the key ways you can attract more candidates, and keep them interested, is to be very clear about the role when you post listings, and keep the momentum going. Don't let the interview process drag out too long - this will also have the benefit of saving you multiple man hours. 
Internal Recruitment 
The best way to reduce costs though, is to hire internally. If you already have someone within the business who would be suitable for the role, and is looking to either progress or explore other positions in the company, it's certainly cheaper to hire internally. The individual will also already have knowledge of the organisation and its culture. 
Hiring and promoting internally additionally encourages loyalty within the business, as staff can see that hard work leads to advancement. This in turn contributes to higher employee retention rates. 
Of course there are some downsides to hiring from within. External recruitment can lead to bringing in someone with fresh new ideas that can shake up the business. You might also be leaving a gap in the workforce - you may have filled one position, but could need to hire someone for the job your internal candidate had previously. 
Use A Recruitment Agency
Most people assume that using a recruitment agency is always the more expensive option, but this isn't always the case. Most recruiters take anywhere from 15% - 30% of the candidate's yearly salary as the service fee for supplying a new employee based on the seniority of the role.
What most businesses forget is that recruiters have candidates and CVs lined up waiting for businesses, and many have close contact with people who are already employed who can be convinced to start a new role.
The time it takes for a recruiter to supply a business with a fitting employee can take the weight off of the resources it takes for businesses to advertise for the vacant positions themselves.
However, hiring external candidates can be risky too, as you have not worked with them previously, and the individual could end up taking advantage of the employer. Existing employees could also become resentful if they felt they were better suited for the role.
Overall, there are always risks with recruitment. It's therefore important to carefully consider all the aspects of your strategy, and how much it costs.
Pineapple Recruitment is committed to offering competitive services for helping Dorset businesses with their recruitment needs. Contact us today!